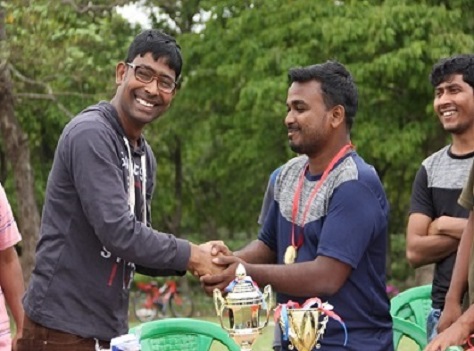 LAKHARMATH COMMUNITY DEVELOPMENT PROJECT
Rabi Bera was born on 11th Jan 1990 in an underprivileged family situated at Lakharmath, a slum community. His mother was a sex worker. He lived along with his mother and younger brother. His father passed away when Rabi was just 8 years old.
Lakharmath community development project under the leadership of Biva Roy, admitted Robi to a primary school. He always stood first or second till Class-10 Board Exams. He secured first division along with star marks in the Secondary Examination and first division in Higher Secondary Examination.
He struggled hard to succeed. Lakharmath project successfully inculcated values and assisted him in developing a career for himself outside of the red-light area. Moreover, the values of compassion, fellowship, altruism, honesty and integrity helped shape his subsequent life choices and accomplishments. All these moral qualities were built in him by steady guidance of Emmanuel Ministries Calcutta. Apart from the academic field, Rabi also excelled in extra-curricular activities such as Dance, Drama, Recitation, introductory speech, conversation with visitors during his formative years. He actively participated in all cultural programmes and competitions arranged by EMC.
He had a jovial but stubborn personality. His mother also played an important role in disciplining his life. She always vigilantly protected her ward from all evil influences around him. Beyond a certain time, she left the sex working profession and led an austere but respectful life which further boosted Rabi's morale. Rabi passed graduation and post-graduation from reputed universities of India in the subject called International Relations. After a gap of two years he qualified for National Eligibility Test (NET) along with Junior Research Fellowship (JRF) followed by admission for Ph.D degree. He faced competition for teaching posts and finally joined as Assistant Professor in Political Science at University of North Bengal (NBU) in the year 2018.
Rabi now stays in Darjeeling district near to Siliguri. He has been keeping close contact with Lakharmath project and whenever he visits Kolkata, he spends considerable time teaching and motivating the present generation learners of Lakharmath Project. He loves to eat all Indian food especially spicy ones. He is fond of reading fictional and non-fictional writings, philosophy, along with political and strategic issues. He loves to help others in distress and has been doing it since adulthood in many ways. For example, he never said no to anyone who came to him for help in composing formal applications, guided on managing inter-personal conflicts, helped the elderly by running their errands.
Even during COVID lockdown, he personally helped his orphaned students and other persons.He even contributed to Lakharmath project's initiative in helping the local people in extreme distress. He is deeply connected to his project and hopes that many more beneficiaries will stand upright like him and carry on the core legacy of EMC in their personal and professional domains.