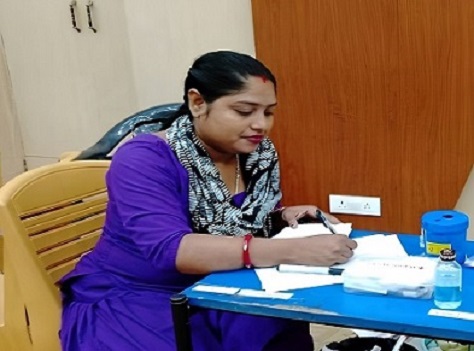 NEW MARKET COMMUNITY DEVELOPMENT PROJECT
Rupa Mallick is a 29-year-old ex-student who was a beneficiary of the project for the past 14 years. She lives with her parents and her siblings Rohit and Vicky in a slum colony at 4, Kora Bardar lane, which is under the Kolkata Municipal Corporation. They were considered as the downtrodden class of people, the so called "Harijans",now termed as Dalits who are janitors whose profession was to sweep the streets and clean the drains.
Earlier there were clashes between the Harijans and the Sonkars (consider themselves higher than the Harijans) over petty matters like fetching drinking water from the same tap and using the same toilets. Malpractices like witchcraft, child marriages, child labour, gender discrimination and superstitious belief were predominant among the people in the community.
In the midst of these odd situations she was enrolled to the project under the non-formal education programme. She gradually improved her reading and writing skills and later was enrolled to a regular school. She successfully completed both her Secondary and Higher Secondary Education. Apart from this she also became a recipient of the Gold Award of the International Award for Young People (IAYP) and received the award from the Vice President of India Md. Hamid Ansari. During her time in the project she fulfilled her ambition in learning classical dance, karate, sewing, tailoring and beautician.
One of the turning points in her life was her marriage to Ravi Mallick. It was against the norms of the community as Ravi belonged to the Sonkars community and they were both ostracized from the community for a period of time and later accepted back in the community but yet not fully reconciled.
Joy knew no bounds when Rupa was offered a dignified job at a health centre as a ward girl. Life was at its fullest and she was so very delighted and satisfied with this new venture. She was very instrumental in serving the community especially those with various sicknesses and ailments. In the recent pandemic situation, she worked round the clock in the Covid vaccination drive. She first ensured that all the members of her community availed of their first doses of vaccine. All the more she also extended great support to Emmanuel Ministries Calcutta by ensuring all staff and young adults receive the vaccines. She stated in her own words saying that "The secret of my happiness is when I make others happy".